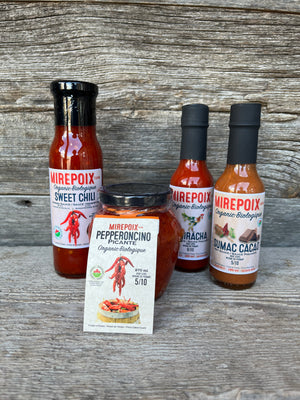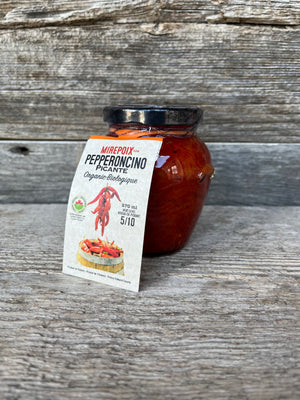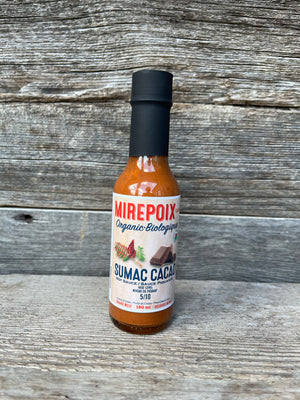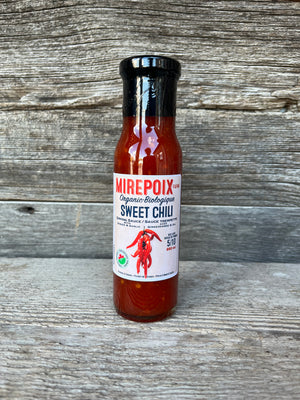 Mirepoix hot sauces are made in Prince Edward County starting with certified-organic, locally-grown ingredients. No "BURN-YOUR-FACE-OFF-SAUCES". All varieties are mild and medium-heat sauces crafted to compliment foods of all kinds.
All hot sauces are lacto-fermented and aged before further processing. This method develops flavours and reduces the Ph of the mash - allowing us to use less vinegar in the final bottling. More flavour!
Sriracha Organic Hot Sauce
A bold garlicky-sweetness carried with a spicy KERPOW!
Made with Prince Edward County certified-organic honey!
150ml in a glass bottle
Sumac Cacao Organic Hot Sauce
Inspired by Mexican Molé.
A complex hot sauce. Using a tangy sumac flower tea reduction, peppers, herbs and pure Mexican xocolatl chocolate! Thick, rich and zesty!
150ml in a glass bottle
Sweet Chile Dipping Sauce Organic
A Thai-style dipping sauce with strong notes of garlic and ginger.
Sweet & sour, thick and mildly spicy. 
Pepperoncino Organic
Our delicious blend of aged sweet & hot shredded red peppers marinated in oil infused with garlic, vinegar, lemon and herbs. Delicious on eggs, sandwiches or pizza. A sought after condiment, traditionally in short supply but we're all good for a while!