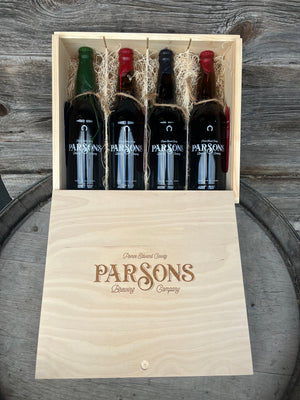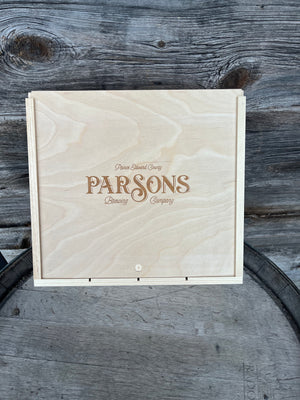 Gift Box: Barrel-Aged Four-Pack
Blended barrel aged stout. Blending beers has become a passion of ours at Parsons. The culmination of multiple experiments is this blend of our Eightball Milk Stout and our Devil's Right Hand base recipe aged in rum barrels. Mild rum spice on the nose and a warming effect that finishes with a distinct crème brûlée aftertaste. A multi-layered delectable feast for the senses. (contains lactose)
We took our Mousetrap Rye Pale Ale and aged it in rum barrels and out came a masterpiece - Caribbean spices on the nose and palate contribute a warming effect balanced by a mild sugar cane sweetness reminiscent of a Scotch Ale. Dangerously smooth.
This brew is a blend of multiple batches of The Son aged in bourbon barrels. Expect a fragrant winter spice nose with notes of vanilla and slight toasty flavours emanating from the oak. A thought provoking distinguished stout.  
This is the barrel aged version of the Elder, aged in Old Forester bourbon barrels. Luscious dark cocoa and toasty vanilla provide the backdrop for a warm boozy brew intended for fireside drinking.