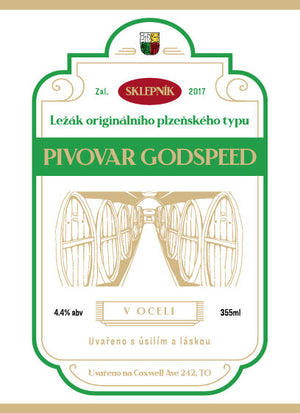 Sklepník v. Oceli Old Pilsen Inspired Lager
Visiting Pilsner Urquell's underground cellars and tasting their original oak-fermented and conditioned golden lager will leave an impression like no other beer experience can. Years can drift by and you will still remember the cellar's damp, bitter cold. You will remember the rows and rows of majestic barrels lining its hallowed walls. Most importantly, you will remember how tasting the original pilsner from one of these hand-crafted vessels reminded you of why you fell in love with beer in the first place. This is the experience we drew from when making Sklepník Old Pilsen Style Lager. We can only aspire to spark a similar passion with our humble rendition. Na zdraví!
The "Stainless Edition" of this lager was fermented then cold conditioned in stainless fermentation tanks for 7 weeks. Triple decoction mash. Naturally carbonated. Unfiltered.