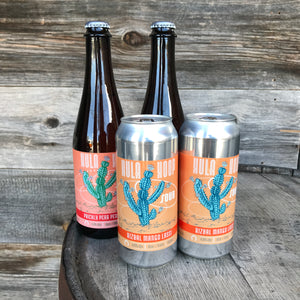 Sample our current sour beers with this convenient Sour Four-Pack.
Prickly Pear Perfection Sour 
The prickly pear fruit not only provides a deep neon pink hue, but lends this kettle sour beer notes of watermelon and bubblegum. A generous dry hop addition of El Dorado hops brings forth bright tropical flavours. We are pumped about this one!
ABV: 4.8% IBUS: 25
Rizbal Mango Lassi Sour
The second release from our Hula Hoop series. Bright and opaque, sweet and tart with a light creamy mouthfeel - a perfect pairing for outdoor cooking and sunshine!
ABV: 4.8% IBUS: 15