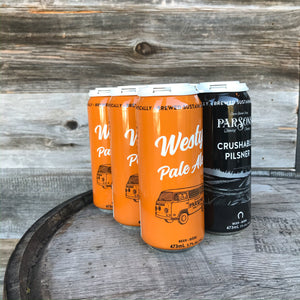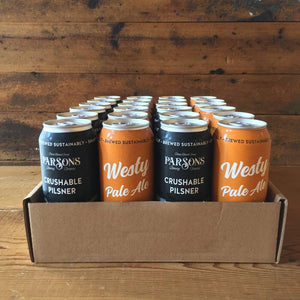 Mixed Tall Can - Crushable Pilsner + Westy Pale Ale
CRUSHABLE PILSNER
Called Crushable for a reason - this traditional German Pilsner is made for a hot summer day. Unfiltered because it has nothing to hide. Using only German malt & hops make for a malt-forward open and a dry finish. 
ABVS: 5% IBUS: 35
WESTY PALE ALE
A generously-hopped incredibly refreshing West Coast style pale ale named after our VW Westfalia beer delivery van. You'll find it hard to sip slowly. Dry-hopped with Simcoe & Citra for a hint of grapefruit zest.
ABVS: 5.7% IBUS: 42
A 10% discount applies to all flats (24 cans).
Please recycle your cans by returning them to your local Beer Store.