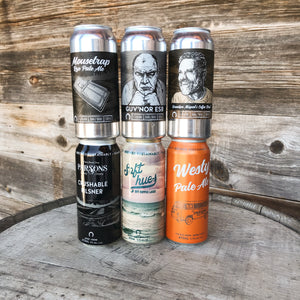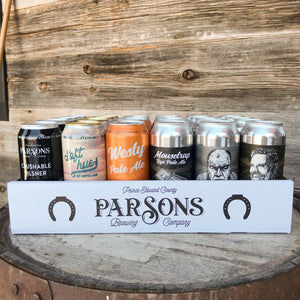 CRUSHABLE PILSNER
Called Crushable for a reason - this traditional German Pilsner is made for a hot summer day. Unfiltered because it has nothing to hide. Using only German malt & hops make for a malt-forward open and a dry finish. 
ABVS: 5% IBUS: 35
Inspired by long contemplative walks on Sandbanks Outlet beach at dusk, Soft Hues features all the tropical hoppy aromatic goodness of an IPA with the soft mellow finish of a lager. A collaboration with renowned Canadian mixed media artist Christine Flynn, this brew is a perfect year-round accompaniment to an appreciation for nature's beauty.
ABV: 5.1%  IBUS: 10
WESTY PALE ALE
A generously-hopped incredibly refreshing West Coast style pale ale named after our VW Westfalia beer delivery van. You'll find it hard to sip slowly. Dry-hopped with Simcoe & Citra for a hint of grapefruit zest.
ABVS: 5.7% IBUS: 42
THE GUV'NOR ESB
A deep chestnut brown ale topped by a near-white creamy head. Maris Otter and chocolate malt combined with English ale yeast lends this brew toasty toffee notes while the earthy floral attributes of Willamette, Fuggles & East Kent Golding hops make it a perfectly smooth brew.
ABV: 5.6%  IBUS: 33
A smooth stout topped off with Samantha's father's organic coffee grown on the sloped coastline of the volcanic Lake Atitlan in Guatemala. Deep notes of toasty chocolate from dark malt grown in Patagonia, Chile, and an uncompromising coffee punch balanced by the citrus and herbal aromas of cascade and Williamette hops. *BrewOn Certified
ABV: 5.9%  IBUS: 45
A complex beer with the punch profile of Rye malt, balanced by the rich almost nutty flavour of Maris Otter. Throw in a modest late hops addition, and you have a beer that challenges every taste bud on your palate.
ABV: 6.6%  IBUS: 39
A 10% discount applies to all flats (24 cans).
Please recycle your cans by returning them to your local Beer Store.