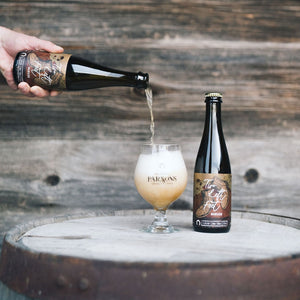 Parsons Brewing's take on a classic unique style of beer "as old as man" - Belgian Lambic - technically it can't be referred to as Lambic since it is not from the Brussels area (like Champagne can't be called champagne unless it is made in Champagne, France or parmigiano in Italy). ... so we call it a barrel funked bottle conditioned ale.
This Gueuze contains a blend from barrels aged for 5yrs and 1-1/2yrs, co-fermented with Brettanomyces, Pediococcus, and Lactobacillus. Cloudy by nature, tart but not sour with a subtle fresh cut hay nose, honey-dew melon body and a lingering orchard fruit finish, emanating through delicate, tiny bubbles.
*Please recycle by returning your empties to your local Beer Store.